We have released updates for WINPACCS Accounting and WINPACCS Cashbook. Our White Paper provides you with an overview of the most important new features. A detailed overview of all the new features and bug fixes can be found in the Release Notes.
Here are two highlights:
Splitting amounts within a budget structure
The biggest innovation is that in WINPACCS Accounting and Cashbook you can now select several budget lines of a budget structure at the same time and distribute an amount as a percentage.
In some cases, the splitting function is therefore not needed in the accounting process. If all the other posting data remains identical and only the amount is to be distributed to several budget lines of the same budget structure, you can now specify this directly in the Additional account assignment section in the budget structure field: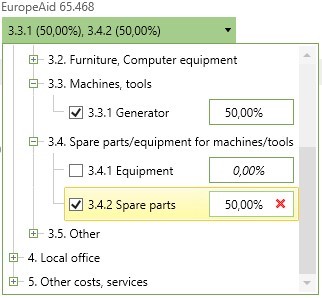 In Project controlling, these entries are automatically displayed as splits.
This function is available in newly created budget structures where the option Multiple selection possible is activated in WINPACCS Cloud. If you are interested, please contact your consultant.
Distribute total amount as a percentage
The Split total amount function has been improved when splitting in WINPACCS Accounting. In addition to the option of distributing the amount evenly among all partial postings, it is now also possible to retain the percentages of the individual partial postings and distribute the total amount as a percentage. This can be particularly useful for posting templates, with which different total amounts are always distributed by the same ratio.